How I Started with GTA
I've played GTA games all my life.
I started with GTA III back in 2001, then Vice City came and I was hooked. I've been consistently playing GTA ever since. Thus far, I think my favorite is Vice City, mostly because of V-Rock and it got me into that kind of music.
A Myth!
I found this when I was at the little construction site below Mt. Chiliad in San Andreas.
(Never Mind. My Computer with the pictures is shot. I must wait until it is fixed, then I'll upload the picture and video, whichever it was that I had.)
A Little Something I stumbled Across
This is GTA San Andreas. This scared the $hit outta me. It looks like a devil wearing a robe or something. I need serious help with this! Like the caption says, I don't have mods, let alone know how to use them. It stood there, and as I ran to it, it vanished. I know the myth stuff has died down, but I'm still a hunter, and overjoyed when I found this (and scared).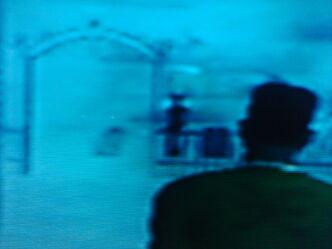 I'm a Bit Spooked, Now!
I found something in the woods in Shady Creek while trying to show people that there is no such thing as Shady Creek Creature! Anyone have any ideas? It didn't do anything, my game has no problems with it, and I don't use mods, because again, I don't even know how to use them!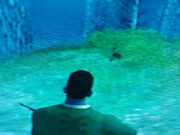 Myth Hunts
I used to love the GTA: SA Myth Hunts, but they were found to be mods, they did seem to cool to be true, but I enjoyed none-the-less. What you see above though is my in-game pictures, without mods. I had the PS2 and had no idea how to mod. Lastly, I did see a figure running under water once, had it on video, but my computer crashed, and that was about 5 years ago.
GTA: San Andreas Shark
They claim it to be fake, but I swear to this day I saw one, because again, I don't use or know how to mod. I saw it as a shadowy figure in the water way near Mt. Chiliad. I was being pursued by police and had just cheated to lose them., as I swam underwater, I saw an outline of a shark. It scared the absolute sh*t out of me and I got out of there. I hung around, but I think it just went through the sand, you know how the sea animals swam through walls.
Favorite GTAs
Grand Theft Auto: Vice City
Grand Theft Auto: V
Grand Theft Auto: San Andreas
Grand Theft Auto: IV
Grand Theft Auto: Episodes From Liberty City
Grand Theft Auto: Vice City Stories
Grand Theft Auto: III
Grand Theft Auto: Liberty City Stories
Grand Theft Auto: Chinatown Wars
Grand Theft Auto: II
Grand Theft Auto
Grand Theft Auto: Advance
GTA VI
I'm hoping the next installment takes place in Vice City again. We all want to see a remastered Vice City, but I'd also like to see a new city, like Chicago or Detroit.
What I Hate About GTA?
The young, ungrateful, little kids on GTA. They have no idea what it was like when all you had was GTA: III. And they swear at you and call you names they don't even understand.