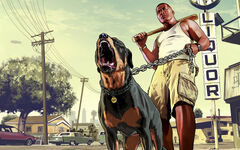 | | |
| --- | --- |
| | This user follows the Official Policy of the GTA Wiki. |
| | |
| --- | --- |
| 14 | This user is 14 years old |
| | |
| --- | --- |
| | This user is a proud owner of a PS3 |
| | |
| --- | --- |
| | This user thinks GTA is the best series of games ever |
What's up everyone. I'm Painkill from Baltimore, (now residing in Atlanta, Georgia ). I became a fan of GTA when I went over my brother's friends house and saw him playing GTA San Andreas in 2004, I was hooked from the very beginning but sadly I never got the chance to play. In 2010, I finally found out that no other video game could cheer me up when I had a bad day, make me feel happy or excited and make me love it like GTA did. That's why Rockstar Games are my favorite game developers, they put so much energy, focus, dedication, hard work, time and love into there games.
Personailty
I'm a very cool guy to get along with and trust me, it is easy to get on my good side. I look for a few things in a person before they can be consider a friend - honesty, loyalty, trustworthy, believable and a good sence of humor, (Call it me being a picky son-of-a-bitch, but I call it me being honest).
Personal Grand Theft Auto Reviews
(I will not do any review for any 2D games because I haven't played them for a while)
The Good
It's mafia presentation, realistic mafia characters, and the mafia type of gameplay tops it off as a 10. And did I mention that its the only game that pulled off the mafia look perfectly?
The Bad
Not much to list here besides the grahpics it was looking great one minute and then weird the next minute.
The Good
Rockstar games themsevles managed to pull off what it meant to be a criminal in the 80s, everything was prefectly captured from the cocain growth in Florida during the 80s, to the the sexy women and crime rate as well, it tops off as being a 10.
The Bad
The camera system got corky at times, especially when aiming at targets.
The Good
The story, the gameplay, the 90s feel of the game and the over the top characters tops this off as my favorite GTA game - a straight 10.
The Bad
This game is not just the product of amazing things but also a product of stupid rumors, like that shitty bigfoot rumor in Mount Chiliad.
The Good
Rockstar Games once again managed to pulled off what it meant to be a mafia criminal but this time in the late 90s. A solid 9.4.
The Bad
The reason I gave it a 9.4 is becausse of it's protagonist, Toni Cipriani. Nothing good ever happened to him no matter how hard he tried. Some of the mechanics in this game were also a let down compared to GTA San Andreas.
The Good
Rockstar took us back to the 80s and once again captured the vibe of the region greatly - a solid 9.6.
The Bad
Victor Vance is the same as Toni, nothing good is ever happing no matter how hard he tried. Some of the mechanics were returned but in a sloppy way.
The Good
"Niko, my cousin, I can't believe you are here! Welcome to America!" That quote lead us into a verge of awesomeness and the story what it really meant to be a immigrant trying to make in "the land of opportunity" in modern times, but eventually gets sucked back into the criminal lifestyle. A 10 in my book.
The Bad
Some characters got annoying at times, and the cover system got corky too much. And like San Andreas, it was a product of rumors too, like the dumb Ratman in the subway.
The Good
Rockstar managed to bring a bixer story to life in a great way. A solid 9.0.
The Bad
The story got mixed up at times and Billy Grey was just a drug addicted scumbag who was hard to like. (Who ever said you couldn't like the Antagonist of a story?)
The Good
The rich and gay side of Liberty City is explored in this over-the-top explanation of what it means to work with a guy whose a financial, drug addicted wreck but is Liberty City's famous nightclub owner and everyone in the rich criminal underworld wants you to be there clean-up guy. A 9.8 is what this is in my book.
The Bad
Some characters become old and annoying at times.
To Be Finished When Released
Friends