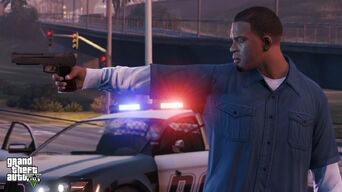 Hi, I am Smashbro8! I am a huge fan of the Grand Theft Auto games especially, Grand Theft Auto:Vice City, Grand Theft Auto: San Andreas, Grand Theft Auto IV, and The Ballad Of Gay Tony. I also enjoy Grand Theft Auto V to a certain extent. I am also looking forward to helping out this wiki. If you need to ask me anything concerning GTA Vice City, GTA San Andreas, GTA IV, GTA V, or The Ballad of Gay Tony, please message me on my talk page! Good luck and enjoy Grand Theft Auto!
Character
About me and GTA
Favorite Protagonists
Favorite Non-playable characters
Favorite Vehicles
Favorite Weapons
Favorite Songs
Mr. Vegas- Mus Come A Road
Ron Browz- Jumpin Out the Window
Raheem Devaughn- You
Kanye West- Flashing Lights
Busta Rhymes- Where's My Money
Johnny Polygon- Price on Your Head
Fat Joe and Lil Wayne- Crackhouse
John Legend- Green Light
Busta Rhymes- Conglomerate
Kanye West- Love Lockdown
Freeway- Carjack
Consequence- I Hear Footsteps
Skyzoo- The Chase Is On
Talib Kweli- My Favorite Song
Saigon- Spit
Lloyd- Get It Shawty
RAMP- Daylight
Jill Scott- Golden
Alexander O'Neal- Criticize
Loose Ends- Hangin' on a String
Favorite Quotes
| | |
| --- | --- |
| | This article or section is Under Construction. |
Watch the road motherfucker! The road!- Ryder
OG Loc laugh*. Ay ay ay ay, It's OG Loc homie and I'ma kick a little something like this! Ay yo when I come through up in the base, you don't me to come with a gun in your face! 
I'm GANGSTA!!!- OG Loc
Yo that shit sucks!! Damn!- Bogman
You get your sorry ass in here right now Carl Johnson or I shove a fucking hand grenade up it!- Catalina
Damn man his lyrics is horrible! That dude need some work. Hell yea!- Ryder and CJ (second sentence only)
Ay babe want company? MOTHERFUCKERS!!! CJ (first sentence) and Big Smoke (last sentence)
What's up with Jizzy? Dead! What's the plan? - Cesar Vialpando and CJ
All we had to do was follow the damn train CJ! -Big Smoke
Can't stop me!- Ryder
GTA Reviews
GTA Vice City
Graphics: 7/10
Location: 10/10
Gameplay: 7/10
Storyline: 6/10
Music 9/10
GTA San Andreas
Graphics: 7/10
Location: 10/10
Gameplay: 10/10
Storyline: 9/10
Music: 9/10
GTA IV
Graphics: 9/10
Location: 9/10
Gameplay: 3/10
Storyline: 3/10
Music: 7/10
TBoGT
Graphics: 9/10
Location: 9/10
Gameplay: 8/10
Storyline: 10/10
Music: 9/10
GTA V
Graphics: 10/10
Location: 6/10 (too much country)
Gameplay: 3/10 (long list of complaints on this one)
Storyline: 8/10 (I enjoyed it unlike some other people)
Music: 9/10 
Best GTAs (my opinion)
Location: GTA San Andreas, GTA Vice City, GTA IV/TBOGT, GTA V
Gameplay: GTA San Andreas, GTA Vice City, TBoGT, GTA V, GTA IV
Storyline: GTA San Andreas, TBoGT, GTA V, GTA Vice City, GTA IV
Total: GTA San Andreas, GTA Vice City, GTA V, TBoGT, GTA IV
Full Reviews
| | |
| --- | --- |
| | This article or section is Under Construction. |
GTA Gallery!!
GTA vs. Saints Row
I am also a humongous Saints Row 2 fan, which was obviously GTA IV's rival. However, there are things in both games that i didn't like. Again, these are my opinions, you do not have to agree with them. 
GTA IV
GTA beats Saints Row 2 obviously in the collisions with the cars. 
GTA IV wins with the better radio system. 
The cars are more realistic looking. 
You can access the Police Computer and take out Street Criminals or violent gangs, as well as Most Wanted criminals, while in Saints Row 2 you cannot. 
Strippers actually give you lap dances :D! 
Taxi Rides are more entertaining. 
Cruising with cars in this game are more fun!
The Cover System is a fun and stealthy way to attack random people or enemies. 
You can travel on Subways while in Saints Row 2, you cannot.
Highways  are more realistic.
Rare vehicles either have a specific spawning point or just spawn much more often than Saints Row 2's rare vehicles. 
Saints Row 2
More weapons
More melee weapons
Different fist fights depending on how your player is made. 
More explosives
GTA IV did lack the amount of fun activities that existed in the previous GTA games and Saints Row 2 such as Firefighter, Ambulance, Taxi, etc. Other old vehicle missions i wish existed in both games such as Burglar and Trashmaster missions. 
Custom made protagonists!!! 
Saints Row 2 police are less harsh and scary. In GTA IV and its DLC i like to commit crimes but I am afraid of the cops since they are too smart. I can easily cause lots of mayhem and survive a five star wanted level in Saints Row 2, but I will even die at three stars with ease in GTA IV.
In Saints Row 2, you cannot get three stars for shooting/killing a cop, unlike GTA IV. 
I cannot get busted in this game unless I am knocked down within an officer's reach. 
I keep all weapons if busted. 
There are more enterable buildings and places to explore in Saints Row 2 than GTA IV. I can access the airport's interior (and even take planes away from there), the police headquarters, a few hotels, an underground cave, a prison island, a Nuclear Power Plant, a mountain, the university area, suburbs,random building rooftops (good areas to snipe), malls, lighthouse, court, beach various casinos, nightclubs and strip clubs, etc.
No four star wanted level for accessing the runway of the game's airport. 
Cops are less likely to get pissed off and come after the player in this game than in GTA IV where the slightest thing you do attracts police attention.
There is more to do such as assassinate a list of pedestrians, go bananas in the Mayhem activity, finding secret areas, spraying people with a Septic Tank cannon, destroying a bum's territory, mission strongholds, defeating all cops in the police headquarters, vehicle derby, etc.
More hidden objects to find such as CDs, spray tagging spots, and secret areas. 
Heat Seeking Rocket Launchers! So awesome! 
It is more fun to snipe people with in this game. 
I do not need Body Armor in the game, for my health regenerates after not being harmed for a few seconds. 
It is easier to escape police because wanted levels vanish automatically if refusing to commit any more crimes, instead of escaping a search radius in GTA IV. 
More stuff to destroy in this game than in Saints Row 2. I can destroy vending machines, explosive trailers, trees, you name it. 
The player can pick up many objects and use them to attack people or enemies. 
You can hire ally gang members to help you fight during missions or random gameplay. 
No friends call the player constantly, unlike in GTA IV. 
It is much easier to collect or earn money in Saints Row 2 than in GTA IV. 
You can make your own playlist in the game so that all your favorite songs in the game play on one custom made radio station. 
More gangster-like feeling in the game, due to amount of weapons and their abilities, the ability to use drugs, and also building up a gang empire. 
Robbing Stores and mugging pedestrians exist. 
Car and gang customization!
Pedestrians do slightly more activities in this game than in GTA IV. 
Stilwater of Saints Row 2 is prettier than Liberty City of GTA IV (day and night cycle). 
The player sprints faster in this game than in GTA IV. 
Many different unlockables exist in this game such as infinite ammo, infinite sprint, random rare vehicles, etc. 
More safehouses
Lots of cars in the game can be stored in the game's garage at various safehouses instead of the few two-car residential parking for GTA IV (therefore forcing characters to pick cars to store wisely). 
I am also more threating and difficult to defeat (my opinion) in Saints Row 2 than GTA IV. 
However, I believe GTA has finally defeated Saints Row since Saints Row 3 was a crappy, sad disappointment and Saints Row IV seems to be almost just as dull and bad as its prequel. Grand Theft Auto V on the other hand, looks extremely exciting and less likely to be disappointing than Saints Row's cartoony, more rated E (though ESRB places it as M) crap.