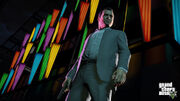 Hi my name is Stephen.I'm interested in Gaming.My favourite Gaming Companies are Rockstar Games And EA.I'm a big fan of the Gta Series.
About Me
My Name is Stephen Macky.I come from Macedonia,Bitola.My language is quite easy,not relly hard.I'm good at English ,but I still do mistakes.I am interested in Gaming,especially the Gta-Series.I have a sister that is least interested in the Gta-Series.
How Did I started to Love The Gta-Series
I visited my cousin for some days.We played both on his PC.My cousin showed me a game named Gta Vice City.I played the Game it was Awesome driving around the city.Then my Dad installed the game on my PC and I finished the whole game.Then I sawed another Gta named Gta4.I sayed to my self that this is an Awesome Game I need to played.My Dad gaved me a new PC to play the game.That was my discovery of the Gta-Series.Also I can't wait for Gta5.