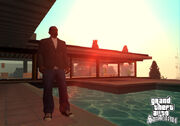 Yo, my name is Caoimhin. So the story behind this name is that I made up this guy on Facebook called Eddy Tentor to troll people just for fun with my mates and since then the name stuck so it's my user name. Anyway more about me I'm a heavy gamer I like a lot of games usually shooters and sanbox games but I like racing games as well. and my favourite GTA game would probobly be
GTA: San Andreas
. I own a PS3, I had a PS2 but the fucker died. If you wanna hit me up on da PS3 my name is Cevanno-01.
My favorite pages
This page of course
Gold SMG (Beast gun)
Grand Theft Auto V (Best game ever!!!)
Trevor Phillips (cos he's like me) not really by the way, incase you didn't know I dont really go on murdering sprees and such but anyway...

Minigun (It's a lean mean gut reanching machine)
This user is proud to be Irish, up da RA.