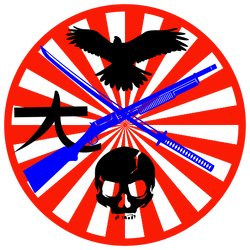 Dai Zaibatsu is a crew on Rockstar Social Club. We are dedicated to creating chaos all across San Andreas.
About
The Dai Zaibatsu crew is all about wreaking havoc, creating chaos and having fun with a few friends. From liquor store holdups to large-scale heists, we do it all. We're thieves, murderers, businessmen, gangsters, yakuza, lawless lunatics and more. At the end of the day however, we're just crazy people with guns.
History
September 9, 2013 – Dai Zaibatsu is established.
September 20, 2013 – The crew reaches 25 members.
September 23, 2013 - Dai Zaibatsu Club is established on PlayStation Home.
October 2, 2013 - Ken and Sirasa preform the Zaibatsu's first robbery, taking $1548 from a liquor store in the Grand Senora Desert.
October 4, 2013 -  With the help of KillerDude25, Mc_turd, KoEnShaku, and DarklightLu, Ken purchases Dai Zaibatsu headquarters at 0325 Rockford Drive, Little Seoul.
October 5, 2013 - Ken, Kevin, Justin, and Chris climb Mount Chiliad. Misadventures and shenanigans ensue.
October 11, 2013 - Dai Zaibatsu moves up to a high-end condo at 3 Alta St, Apt 57.
October 14, 2013 - Ken, Chris, Justin, and KillerDude25 invade Fort Zancudo, destroy all the Lazers, successfully steal a Cargobob, and deliver it to Sandy Shores Airfield.
October 29, 2013 - Kevin and Ken rob stores all across San Andreas in a Maibatsu Mule, earning thousands of dollars in the process.
October 29, 2013 - Ken, Mika, and Sirasa obtain two offroad Mesas after tricking Merryweather to chase them. Using a Maibatsu Mule and Ken in the back with an MG.
Real Estate
3 Alta St, Apt 57 - DZ HQ - MacabreMilkman
3 Alta St, Apt 57 - KoEnshaku
3 Alta St, Apt 57 - chrisrains1994 
0115 Bay City Ave, Apt 45 - Port Safehouse - Justinthekid24
Last Stand Locations
Company Cars
Allies
Zaibatsu Member Gallery
Zaibatsu Members
| Name | Social Club ID | PSN ID | Rank | Role |
| --- | --- | --- | --- | --- |
| Ken | MojaveMilkman | MacabreMilkman | Leader | Wild Card |
| Justin | Jmac24 | Justinthekid24 | Commissioner | Head of Security |
| Chris | rains1994 | chrisrains1994 | Lieutenant | Wheelman |
| KoEnshaku | MrKoEnshaku | KoEnshaku | Lieutenant | |
| Lu | DarkLightLu | DarkLightLu | Lieutenant | Sniper |
| DarkShark74 | DarkShark74 | DarkShark74 | Muscle | |
| | glcomet2010 | Mc_turd | Represantative | Wheelman |
| Alex | Alexlombarti | Seskari | Lieutenant | Wheelman |
| Dylan | BannetteKaiju | PudgeDude | Muscle | |
| Beret | BeretTheStig | BeretTheStig | Muscle | |
| Mama | Bruv_Bruck_Shot | Mam88a | Muscle | |
| Liquid | Liquid28 | liquiD_snakE28 | Represantative | Sniper/Pilot |
| Extreme | xtremale01 | xtremale01 | Represantative | |
| Kevin | khrodes420 | krhodes420 | Muscle | |
| Blaze | Krashier | Sirasa6 | Muscle | Aviator |
| | Kaxium | kaxium | Muscle | |
| | Kainvil | Kainevil | Muscle | |
| Kaurhai | Kaurhai | kaurhai | Muscle | Sniper |
| 2ks4 | GuidoTKP | Spaghioli | Muscle | Support |
| Ilan | Ilan_XD | ilanronen | Muscle | Jack of all trades |
| Risky | Riskown | Riskown | Muscle | Sniper |
| | ChaosKnuxxx | Knuxx2854 | Muscle | Wheelman |
| | Rafa_Ga85 | Rafa_Ga85 | Muscle | |
| Uncle Buck | Uncle_Buck | Uncle_Buck | Muscle | Aviator |
| Dwayne | dwayn3sworld | iiKrAveBlooD | Muscle | |
| | TheEYEthatSaw | KillUMiNATi_11 | Muscle | Soldier |
| | KaoticKiLLER | xFEARxDAxKAOSx | Muscle | |
| | joebean456 | X2_Beans | Muscle | Jack of all trades |
| Nightmare | Nightmare1000 | Nightmare1000 | Muscle | |
| | Vipstarplayer206 | NewMoney297 | Muscle | |
| | KillerDude25 | KillerDude25 | Muscle | |
| | D_r_u_m_h_e_r_o | driftmaniac | Muscle | |
| Shadow | Shadow1414 | Shadow1414 | Muscle | Soldier |
| | King_Solomon83 | mrsolomon83 | Muscle | |
| | exalmus15 | supersamo13 | Muscle | Assault |
| | RudoeRy | thomsor0787 | Muscle | |
| | OuTaThyme | OuTaThyme | Muscle | |
| | nimitzz | nimitz | Muscle | |
| Khameron | KhameronVII | khameronVII | Muscle | |
| Saints'Hoodie | Hood4Good | Hood4Good | Muscle | |
| | mattpat25 | mattpatrick25 | Muscle | |
| Seab | | seab-2 | Muscle | Support |
| | cowboy420 | blazedgamer420z | Muscle | |
| Jay | jayrml89 | jayrml89 | Muscle | |
| | JMVCC_ | JMVCC__ | Muscle | |
| | famirymattels | famiry | Muscle | |
| | Reqitch8 | Reqitch811 | Muscle | |
Shenanigans Gallery