Hey everyone! The long awaited Military DLC we've been waiting for is finally here, and it does not disappoint. The Gunrunning DLC brings new vehicles, weapons, clothing, missions, and property you can buy on the in-game internet, on Warstock Cache and Carry. However, all of the DLC content come at a high price. The most popular vehicle of the update so far is the HVY APC , which comes at the undiscounted price of $3,092,250. Now THAT is a lot of cheddar. However, I reccomend that before you go ahead and goof off with these new, fun vehicles, keep in mnd that there is a way to earn lots of money while you are spending it. To purchase the new properties in game, you need to first recieve a call from Agent 14 telling you that he is looking for someone to buy a bunker and he thinks you are the "right kind of tenant to buy that property." Now, you can buy a bunker from Maze Bank Foreclosures. I reccomend buying the bunker closest to Sandy Shores Airfield (AKA Trevor's Airfield) because you can easily order a vehicle from Pegasus and drive over to the helipad or runway to fly to another faraway location. To start up your weapon manufacturing, you must go to your laptop inside the bunker and start up a supplies collecting mission, which is very easy, depending on the other players in the lobby. I completed this mission by driving over to the Paleto Bay Ammunation and collecting the Rat-Loader filled with supplies.Drive it back to your bunker, and you've started your business! You can now assign members of your staff to research, meaning you can unlock Mk II weapons and their parts when you purchase the Mobile Command Center, or M.C.C. for short.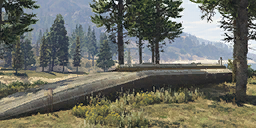 Above: The eleven available bunkers all across Blaine County.
If you assign your staff to manufacturing AND researching, you could be unlocking content and perks while building up a little nest egg for yourself. Like Motorcycle Clubs, you can upgrade parts of your bunker too; Security, Equipment, and Staff. If you've got enough money, I reccomend this because then you can unlock the new content and perks quicker if you are researching. However, I also reccomend doing Import\Export work while waiting for your staff to research and manufacture weapons, because it helps you if you're bored, as well as make money.
Right: A weaponized Tampa with dual miniguns driving out the rear doors of a MCC Vehicle Workshop.
The Mobile Command Center is basically a fortress on wheels, with a modified Hauler or Phantom pulling the huge trailer. The Trailer is divided into three segments. It can be outfitted with a Command Center, from which you fire the turrets on the outside, Personal Quarters, which is not significant at all, and a weapon and vehicle workshop. (Keep in mind this takes up two spaces) You can use the Vehicle and Weapon workshop to customize your vehicles and guns exclusive to the MCC. I reccomend the Vehicle and Weapon Workshop and Command Center. All in all, this DLC is very expensive, and if you don't have much money, you may want to look at G2A!
P.S. This is my first article on this wiki, so if you could leave your feedback, that would be great!