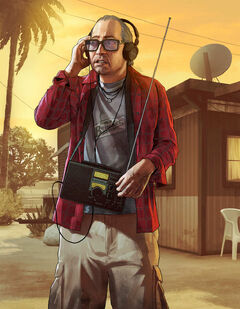 So, here I was on the GTA V forum seeing the new artworks. I scroll down and see some guy's comment: "Nervous Ron? Was the casting call real?"
So I check the site, and I see striking resemblences to our already confirmed characters:
23 - Moronic, almost inbred and creepy white trash hillbilly. Very naïve but in a creepy 'it's only incest sort of way'
Hillbilly? That's how some guy describes Trevor in his character trailer! So formerly, he was younger, and he was NOT the protagonist. He also had a different name.
18 - Albert's fat, FPS playing gamer son. Smokes a lot of weed, has anxiety issues and a card for a bad back, very soft, very opinionated. Into making racist comments while playing online.
Sounds like Jimmy to me! So, "de Silva" was a real name afterall?
42-52 years old - Armenian car dealer, moneylender, would be Fagin and would be bully. Heavily connected to the underworld, but irritates people so much no one likes him.
Franklin's boss?
48 - paranoiac living in the sticks, near Simon, completely paranoid, and terrified of Simon.
Ron's artwork is called "Nervous Ron"!
Share yout thoughts!
References