---
Hey, and thanks for checking out the return issue of GTA Wiki's Weekly News! The news has been gone for over a year (maybe even two, who knows), and it is a great feeling for me to know it is back, hopefully meaning that it can help to serve as a latest news hub for all GTA Wiki editors.
As you can probably guess, the news blog will be weekly, being published every Saturday to let all users know what has happened during the week on both the wiki and in the series, and inform everyone on what is to come. The wiki has slowed down a bit this year, most likely due to the long wait for any new GTA games, but as Grand Theft Auto VI likely grows closer, the wiki should start to bustle again.
So, without further ado, let's get into it!
---
In the GTA Series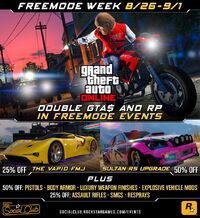 Fans of Grand Theft Auto Online are able to treat themselves to double GTA$ and RP in all free mode activities this week. This also includes a 25% discount off the Vapid FMJ and 50% off the Sultan RS upgrade at Benny's. PLUS there is also 50% off pistols, body armor, luxury weapon finishes and explosive vehicle mods. There is also 25% off assault rifles, SMGs and all resprays. So get on down to GTA Online, for all your killing and stealing needs!
Elsewhere, in the fan base, popular GTA fan site GTAGaming has been hacked, exposing over 200,000 users' monetary details. If you are a member of this site, I recommend keeping an eye on your bills.
---
On the Wiki
It's been a slow week on the wiki, with not too much happening. The most recent event was Gettoru sending a request to the GTA Wiki:Community Noticeboard about some images for GTA III.
---
Weekly Poll
The weekly poll will serve as a little game where each week users will vote and then on the next week's edition we will see what won. In the future, it could be used in better ways, but for now it is just for fun, so here is the first poll.
Who is your favorite protagonist?
---
That's all for this week's edition of GTA Wiki news, see you next week!