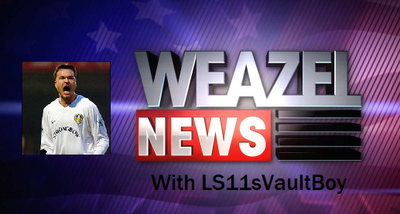 ---
Hey guys, and welcome to the second edition of the wiki's weekly news. This blog is here to give you the latest updates on what has happened this week and what may be happening next week, so let's get straight into it!
---
In the GTA Series
Perhaps the biggest bit of news relating to the GTA Series this week was the news that failed actress and all round crack-head Lindsay Lohan lost her lawsuit against Rockstar, who she claims used her likeness for promotional purposes in Grand Theft Auto V. Not sure who I mean? Well you will when you take a look at the image on the right, it's Bikini Girl! She was probably the main artwork Rockstar used and continues to use when advertising GTA V (heck, the background of the artwork is our wiki's background!). It can also be found as the main image printed onto game discs for GTA V. You can check out more information on Lohan losing the lawsuit here.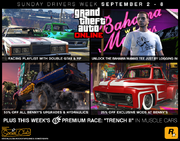 Elsewhere in the series (or kind of in the same game), this week in Grand Theft Auto Online it is Sunday Drivers Week! Running from September 2 to 8, players can enjoy a racing playlist containing double GTA$ and RP, a Bahama Mamas t-shirt for free (I wish personally that they would just open up the club), 50% off all Benny's upgrades and hydraulics, 25% off exclusive mods at Benny's, plus this week's premium race, "Trench II" in muscle cars. For a more in-depth list of every discount, check out the post on the Rockstar Newswire.
---
On the Wiki
Monkeypolice188 has left two requests on the Community Noticeboard, one regarding official wiki policies and one regarding the design of diff pages, it is recommended that you check them out and leave your vote.
The total wiki views for the last week were 2.4 million! Thanks for your support in keeping GTA Wiki as the best Grand Theft Auto database around!
---
Weekly Poll
Last week, the community was asked who their favorite protagonist in the series is; the poll was a resounding success with over 40 votes. Here are the results:
3. Tommy Vercetti, Carl Johnson, and GTA Online Protagonist were joint with 4 votes each. 2. Michael De Santa with 5 votes. 1. Niko Bellic won outright with an astonishing 13 votes, 8 more than second place.
Thanks to everyone who voted last week. Now, let's get into this week's poll! It's a rather simple question, but it is one that can be interesting to look at since a lot of the games are relatively forgotten about; could there be a surprise winner?
What game was your favorite?
---
That's all for this week's edition of GTA Wiki Weekly News! See you next week!