Hey guys and welcome to the Weekly news with VaultBoy, Thomas and Mikey. Here is your news for the week starting Monday 13th January 2014.
GTA San Andreas mobile trailer, released for different mobile devices and prize giveaway!
Trailer
The official trailer shows moments from the storyline and the mobile gameplay. You can see the official video here below:
The song playing during the trailer is : Loopzilla by George Clinton.
Releases
Grand Theft Auto: San Andreas, released around the first weeks of December for Apple, is now available to play on Android and Amazon Kindle HDX. The game costs 6,99 US$ and is being reduced by Google Play (Android) to 5,99 US$ [1].
Prize giveaway
Rockstar organized a limited-edition prize giveaway. You have the chance to gain some rare accessories from the game. The prize giveaway started on January 7th and ends on January 13th. To participate, you need to click right here, it's via Facebook and you need to be above 18 years old to participate.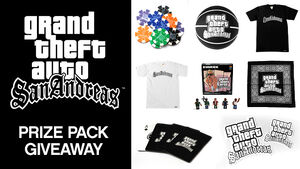 If you don't win the giveaway, don't worry about it, Rockstar announced that they will bring the items to the Rockstar Warehouse during the season, however, you'll have to pay for them.
Around the Wiki
As many of you will have noticed, images around the wiki keep disappearing. Well I'm here to say don't sweat about it. Wikia have contacted us telling us that their support team is trying its best to fix the bug that has caused it. Hopefully we can just sit back and wait this thing out. I personally believe it should be fixed some time this week. -- VaultBoy
Also, the election for a new admin has started. The candidates are Dodo8, Sasquatch101, Tony1998 and Thomas0802. By the end of the week, we should already know who will join the admin team (me, VaultBoy, JBanton and Ilan). - Mikey Klebbitz (talk) 11:21, January 12, 2014 (UTC)
Caption This!
Although the Caption This! contest is currently closed due to the image glitches, I can announce that the winner from last week is Nosebleeds!
References