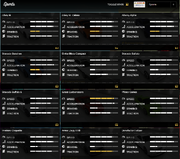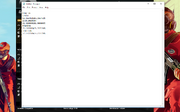 Hey there! I have come into contact with a nice person via email who has gained lots and lots of RSC-stats in numerical form, and was wondering how the hell this is done. Well, he told me. It's a really simple way, and this will help us in terms of listing the percentage of vehicles in the statistics table (the new one that I'm proposing, as it would work perfectly). Here's how!
1) Get onto Social Club

2) View the vehicles

3) Select "Toggle Stats", so all the stat bars appear on the vehicles

4) Highlight the entire graph of a vehicle

5) Copy and paste this into a word processor. If done correctly, the data will be pasted in numerical form, specifically a percentage. While this isn't exactly a speed, this is still data that we should be documenting here. So, I'll be doing this and implementing it into a new table when I get the go ahead. :)
Ad blocker interference detected!
Wikia is a free-to-use site that makes money from advertising. We have a modified experience for viewers using ad blockers

Wikia is not accessible if you've made further modifications. Remove the custom ad blocker rule(s) and the page will load as expected.