WARNING! Spoilers!
So I found a link to this video on Facebook and i was fucking shocked! I knew it was not going to be fake! IF YOU DO NOT LIKE SPOILERS, PLEASE DO NOT WATCH THE VIDEO OR JUST LEAVE.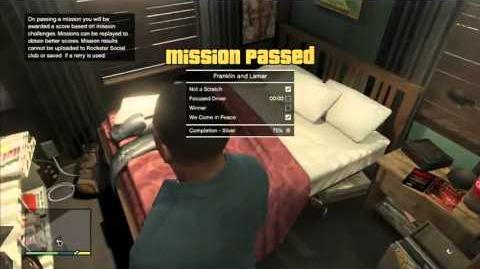 This video features 2 unseen missions, along with some familiar lines that were heard in the trailers. This is Franklin gameplay only. No character switching is seen in the game. ENJOY! 
Oh well!
"I can't believe it, man. It's gone, it's fucking gone. The footage has left us. Fuck"
―Brucie Kibbutz (not real)
"It didn't leave us, Brucie. It was taken down and it ain't coming back."
―Niko Bellic (not real)
If you had your chance to see it, then you're lucky! It you missed it, then i'm sorry. Too bad it was taken down. But don't be upset! It's coming out in a couple days. I don't really think it was nessesary for it to be removed because the game comes out this Tuesday.