Vanessa Kalviring is a possible girlfriend for Carl Johnson.
Vanessa Kalviring lives in a big mansion in Richman, Los Santos and meets Carl at Grotti talking to another man. She prefers Carl to have high respect and high muscle. She is a rich girl with a millionaire father, the owner of Grotti Automobile San Andreas. She is normally home between 08:00-16:00.
Date Types
Food Date
Vanessa prefers to go to restaurants, the nearest is The World of Coq.
Drive Date
Vanessa likes Carl to drive with speed around the cities (specially the downtown of the cities), so she hates the rural areas.
Club Date
Carl can take Vanessa to either the club in Idlewood, Los Santos (Alhambra) or Queens, San Fierro (Gaydar Station). To impress Vanessa with dancing, the player must score over 3500 points.
Coffee
Vanessa will ask Carl in for a coffee when their relationship gets to 45%.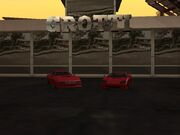 Rewards
for dating: acces at the two cars featured by the company: Turismo and Cheetah, located at Grotti Showroom (see the image)
for 50% relationship: keys of her white Stretch
for 100% relationship: Businessman Suit
See Also