Not to be confused with Ghost, a boat in Grand Theft Auto III.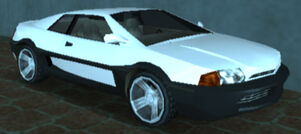 The V8 Ghost is a sports coupe in Grand Theft Auto: Liberty City Stories.
Design
The V8 Ghost is designed as a low profile coupe with sports car-like characteristics, resembling a Lotus Esprit V8 and the back of a Ford Mustang SVT Cobra with revealed headlights, and the front of a 1995-1999 Buick Riviera. The car tends to come in one of two different color schemes, either assigning two colors for the body and trims (which is usually dark grey) or one color for both the body and trim. This car also resembles James Bond's Car in the film "The Spy Who Loved Me".
Performance
In terms of performance, the V8 Ghost has a great speed which can be matched with the Stinger and the Cheetah. The car has a great handling, and has a decent durability, since it can take at least 4 major hits before smoke comes out of the hood. The only downside that its braking is rather poor.
Locations
Trivia
The car is wanted by Love Media for their Car-azy Car Give Away.
The car's name comes from its resemblance with the Lotus Esprit. "Esprit" is French for "spirit" or "ghost".