"A relentless collection of hard-rock bangers, brought to you by the inimitable Lazlow. From a time when rock & roll was all about living and playing hard. Featuring classic material from legendary acts like Judas Priest and Ozzy Osbourne."
― GTA Vice City Website
V-Rock is a radio station featured in Grand Theft Auto: Vice City and Grand Theft Auto: Vice City Stories. The station is a rock station, primarily playing hard rock and heavy metal.
Description
In 1984, the station was based in Reddick, Florida, and was hosted by Couzin Ed and station "intern" Lazlow. By 1986, the station had relocated to Vice City and Lazlow is now the sole DJ following Couzin Ed's dismissal.
The station's promos often included derogatory comparisons to other stations, mocking the synthesizer-based music played by its competitors while stating that "real men" only listen to the rock music that V-Rock plays. The station's mascot is a vulture, as can be seen in the station's logo. Lazlow would often complain that the bird "got more air time than [he] did".
The station was officially endorsed by contemporary rock artists, including Jezz Torrent of Love Fist, who can regularly be heard in V-Rock's promos. The station also operated a studio adjacent to its Vice City headquarters, which would often be used by Love Fist for their recording sessions. V-Rock also features call-ins from members of the public. The three callers featured in GTA Vice City are Couzin Ed, who wishes to vent his anger at Lazlow for "stealing" his job, Mitch Baker, who berates the station for playing "girl's music", and a man who refers to himself as "Snow Dog". The phone line is also used in GTA Vice City Stories, although in this instance the only caller is a man who insults Couzin Ed.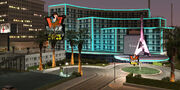 The V-Rock Hotel in Las Venturas, San Andreas takes its name from the radio station and features the V-Rock logo prominently on its sign.
Tracklist
Grand Theft Auto: Vice City
Songs marked with * don't appear in the 10th Anniversary Edition
Grand Theft Auto: Vice City Stories
Video
Grand Theft Auto: Vice City
Grand Theft Auto: Vice City Stories
Trivia
See Also