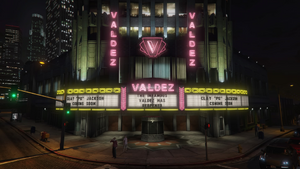 The Valdez Theater is a theater in Grand Theft Auto V located at the intersection of San Andreas Avenue and Ginger Street in Little Seoul, Los Santos. It is based on the Wiltern Theatre and Pellissier Building located in Koreatown, Los Angeles.
Its adjoining blue-green building is of an art-deco style, like its real life counterpart, and has narrow vertical windows. The theater's entrance is illuminated by neon lights at night.
Gallery
Trivia
Gangster rapper Clay Jackson is set to perform here according to the sign.
It is possible that the theater was closed for some time prior to the events of GTA V, as there is a writing on the sign saying "The infamous Valdez has reopened".
The name of theater may be a reference to Red Valdez, one of the three Zaibatsu corporation's contacts in GTA2.