Vehicles in The Ballad of Gay Tony
Talk

14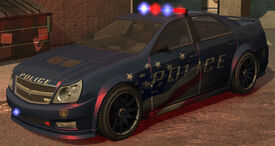 These are the following vehicles are exclusive to or modified in The Ballad of Gay Tony, the second and final episode for Grand Theft Auto IV. All vehicles from GTA IV and some from The Lost and Damned are available in The Ballad of Gay Tony. There either are 20 new vehicles introduced to the episode and four returning in their modified variant or were inaccessible until now. Some names from the GTA III Era, like the Caddy and the Tampa make a return.
Vehicles
* Indicates that this vehicle is exclusive to the The Ballad of Gay Tony.
Before proceeding to edit the vehicle pages, please refer to the Manual of Style/Vehicles to understand the vehicles' page contents.
Sports cars and Supercars
Muscle Cars and Vintage
Two-Doors and Hatchbacks
Four-Door Sedans/Saloons and Station Wagons
SUVs/Crossovers, Pick-ups and Vans
Commercial/

Industrial

Emergency
Public Service
Motorcycles
Boats
Aircraft
Novelty/Racing Cars
See Also
Brickade-a vehicle cut from the final game.