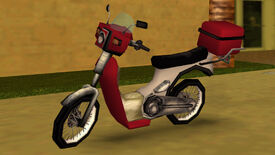 The Ventoso is a customized moped/motorized bicycle featured exclusively in Grand Theft Auto: Vice City Stories.
Description
Despite its appearance, the Ventoso performs apparently better than the Faggio scooter, with higher top speed, higher acceleration and lighter weight. Based on a late 1970s moped or a motorized bicycle, the Ventoso is evidently distinguishable by its compact framing and comes with a back-mounted, hard cover pannier, similar to the Pizza Boy. The Ventoso is a cross resemblance between Piaggio Boss and Honda Cub, two early-1980s scooters, but it is customized into a home-built electric scooter (this is evidenced by the lack of exhaust pipes).
Locations
Trivia
Despite being an electric vehicle. the Ventoso still has the same engine sound as the Faggio, but unlike the Faggio, the Ventoso is capable of producing high-pitched wail when accelerating in a straight line at high speeds.
"Ventoso" is Spanish, Portuguese and Italian for "windy".