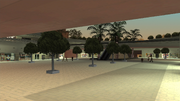 "The Verona Mall is arguably the high point of American culture. A wonderful shopping center built in a place of very low average rainfall with beautiful weather, in which some very intelligent planner decided to build a roof over the street, in a desert, with protection from rainfall."
— GTA San Andreas Website.
The Verona Mall is a shopping center in Market, Los Santos in Grand Theft Auto: San Andreas. The mall is not actually located in Verona Beach as its name indicates, but the mall is located on the edge of the Verona Beach neighborhood.
Description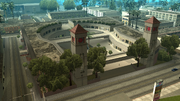 It is a reasonably sized mall which occupies an entire city block. Unfortunately every shop in the mall is inaccessable so the mall serves as little more than a visual decoration. Near the center of the ground floor four escalators can be found granting access to the mall's second floor. There are also a lot of palm trees positioned around the mall most likely as aesthetic choice.  Initially the mall and its immediate vicinity is frequented by the Ballas, an African-American street gang, and consider part of their territory. Verona Mall serves as yet another battle ground during Gang Wars and the Ballas will rush to attack the player should they hang around for too long or attack their gang members.
In terms of facilities and commercial outlets the Verona Mall is a small shopping centre/mall. Although it occupies an entire city block it remains somewhat underdeveloped and underused. It also poses a significant security risk in that it is a largely open air facility with most of the resident outlets accessible by simply walking in off the street without having to pass through any doors or security check points. This would make the mall a considerable target for crime, likely the reason that it has become the turf of a violent street gang.
Trivia
Verona Mall makes a possible appearance in the first GTA V trailer, however, it is difficult to confirm whether or not it is the mall as it is only a fleeting appearance. 
It is possible that Verona Mall is in some way being extorted by the Ballas due to its location on their 'turf' and being frequented by gang members.