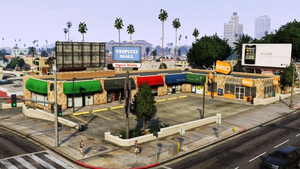 Vespucci Mall is a shopping plaza located on the corner of Palomino Avenue and South Rockford Drive in Vespucci Canals, Los Santos. The plaza is developed as a unit and has an eight-space parking lot in front. 
Businesses
Fleeca Bank (not accessible)
Italia Nails
Shorefeet
Vespucci Blooms
Gallery
Trivia
Near some stairs at the back of the shopping plaza is a stunt jump.
According to multiple signs surrounding the premises, it is open daily.
Ad blocker interference detected!
Wikia is a free-to-use site that makes money from advertising. We have a modified experience for viewers using ad blockers

Wikia is not accessible if you've made further modifications. Remove the custom ad blocker rule(s) and the page will load as expected.