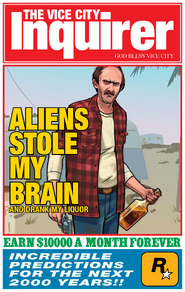 The Vice City Inquirer is a newspaper found in Grand Theft Auto: Vice City Stories. While not appearing in-game, the instruction manual is fashioned as the newspaper.
Description
In the form of the instruction manual, it contains basic controls, and features of gameplay in the game (controls, radio stations, credits). It also contains numerous articles for the Inquirer, as well as a number of advertisements. Gameplay instructions include: multiplayer, Empire Building.
Adverts
Articles
Ad blocker interference detected!
Wikia is a free-to-use site that makes money from advertising. We have a modified experience for viewers using ad blockers

Wikia is not accessible if you've made further modifications. Remove the custom ad blocker rule(s) and the page will load as expected.