Four Chopper Checkpoints are Grand Theft Auto: Vice City side missions around the city with similar objectives - with no time limit the player must fly the Sparrow through a series of checkpoints. All four are required for 100% completion. The first three are unlocked by completing the mission Rub Out and Downtown is unlocked by G-Spotlight. They are commenced by entering a parked Sparrow. The player is rewarded $100 for completing the course. The Sea Sparrow awarded for collecting 80 Hidden Packages behind the Vercetti Estate does not trigger a Chopper Checkpoint mission.
Locations
17 checkpoints - Start on the roof of Apartment 3C.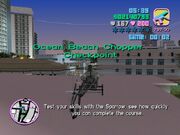 17 checkpoints - in the South-Central open grassy area, East across the street from Links View Apartment. A Police Bribe is nearby.
22 checkpoints - On top of a roof East behind Kaufman Cabs. Access by alley ramp bike jump from street to the North.
29 checkpoints - Unlocked by
G-Spotlight
. At the building East of
VCPD headquarters
.
Trivia
The Downtown Chopper Checkpoint can be done before the G-Spotlight mission by parking a Sparrow from another Chopper Checkpoint in the position where the helicopter would spawn in the future - exit and re-enter. If you land it in the correct position, the mission will start a few seconds after entering the chopper.