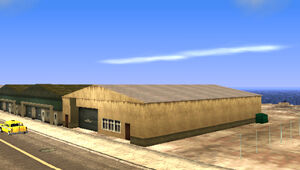 Vincenzo Cilli's Warehouse is a location featured in Grand Theft Auto: Liberty City Stories.
Role
The warehouse, located in Atlantic Quays, acts as a storage facility and office for Leone Family member Vincenzo Cilli. It is out of this building that he conducts his side of the family's operations, mostly involving cocaine distribution. It is unknown what use is given to the warehouse after Cilli is killed halfway through the game. The interior of the warehouse is seen multiple times in the game, though it is not meant to be enterable. In 2001, during Grand Theft Auto III, the warehouse still stands, but it is still inaccessible.
It is from this building that Vincenzo gives the majority of his missions to Toni Cipriani over the course of the first half of the game.
Mission Appearances
Gallery