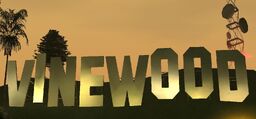 Vinewood is an affluent district in Los Santos, San Andreas in Grand Theft Auto: San Andreas. It is bordered by Mulholland (north), Richman (northwest), Market (south and east), Temple (east) and Rodeo (west).
Character
Vinewood is located in the north-central region of the city. The district is based on Hollywood, Los Angeles, although some of the counterparts of iconic Hollywood landmarks, like Blastin' Fools Records or the Cathay Theater, are actually located in the nearby districts Market and Temple.
Vinewood is one of the least populated areas in the urban areas of Los Santos, but also one of the most affluent, along with Mulholland, Richman and Rodeo. The district is home to many of Los Santos' movie stars, musicians, and models.
Typically, the player can find more high-class vehicles and sports cars being driven around in this area.
Events of GTA San Andreas
Places of Interest
Businesses
Notable residents
Stationary vehicles
Weapons
Miscellaneous
Trivia