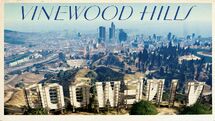 "Vinewood Hills has the highest concentration of celebrities in Los Santos, where they pay $1000 a square foot for space, privacy, views, and the peace of mind that their neighbors are just as self-obsessed and annoying as they are."
―GTA V digital manual
Vinewood Hills is the name of a neighborhood and surrounding hills located in northern Los Santos, San Andreas. It is bordered by Vinewood to the south, Great Chaparral to the north, San Chianski Mountain Range to the east, and Pacific Bluffs to the west. Vinewood Hills is a large neighbourhood, taking up much of Los Santos' northern area.
The neighborhood is the home to the famous Vinewood Sign, which was one of the first landmarks that appeared in the teaser trailer.
Character
The Vinewood Hills make up Los Santos' largest and northernmost neighborhood, spanning a considerable distance from 
Richman Glen
 in the west to the 
Tataviam Mountains
 in the east, and
Vinewood
 and 
Rockford Hills
 in the south to 
Great Chaparral
 and the 
Tongva Hills
 in the north. The hills are characterised by steep, peaceful lanes which are rural in nature in the north and increasingly urban in nature towards the south. Development in the neighborhood is almost entirely composed of sparsely arranged, large, modern houses that are home to San Andreas' rich, elite, and celebrity populations.
The Vinewood Sign and the famous entertainment venue Vinewood Bowl in the east and the Galileo Observatory towards the centre of the district are the most notable points of interest in the hills, commanding impressive views over the city.
The highest point in the Vinewood Hills is located just to the north of the Galileo Observatory. It is one of the only points in the state that provides good views across both Los Santos and Blaine County.
The Vinewood Hills are one of two hill ranges (along with Pacific Bluffs) that are within Los Santos city limits.
Lake Vinewood is located adjacent to the Galileo Observatory. The Lake Vinewood Estates in the area appear to be home to the wealthiest residents of the Vinewood Hills with high end mansions in a isolated neighborhood.
Events of GTA V
After Franklin assassinates a target for Lester, he inherits the mansion that formerly belonged to the man Franklin killed.
Influence
The neighborhood is based on and named after Hollywood Hills.
Notable residents
Places of Interest
Businesses
Roads and Streets
Ace Jones Drive
Cockingend Drive
Cox Way
Hillcrest Avenue
Hillcrest Ridge Access Road
Kimble Hill Drive
Lake Vinewood Drive
Normandy Drive
North Sheldon Avenue
North Sheldon Drive
South Mountain Milton Drive
Vine Drive
Vinewood Park Drive
Wild Oats Drive
Trivia
If one is in search of high-end cars, Vinewood Hills is a good place to drive around. The majority of the vehicles that spawn here are either sports cars, convertibles, or even supercars.