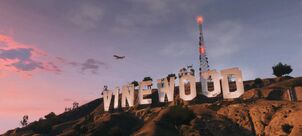 The Vinewood Sign is a landmark in Grand Theft Auto: San Andreas and Grand Theft Auto V. It is located in Los Santos and is based on the Hollywood Sign.
GTA San Andreas
The Vinewood Sign is actually located in the neighboring district of Mulholland. Madd Dogg's Crib can be found beside this sign, while two weapons are found behind it (a Cane and Golf Club). The Vinewood sign can be seen in the pause menu.
GTA V
A much more detailed version of the Vinewood Sign appears in Grand Theft Auto V. It is located in Vinewood Hills, Los Santos. It also has climbable ladders behind the letters.
Trivia
Although the sign says VINEWOOD, it is not located in Vinewood in GTA San Andreas. It is actually located in the district of Mulholland, a neighboring district of Vinewood.
In GTA San Andreas, low-flying planes such as the Beagle or Rustler may frequently crash into the sign or the antenna next to it, usually after the player exits the Safehouse or if the player exits the 24/7 in the lower part of Mulholland.
In Grand Theft Auto V, there is a graffiti on the back of the sign with the number 69 written out.