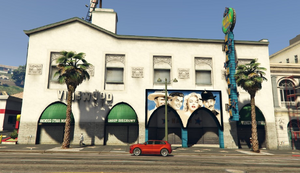 Vinewood Wax Haven is a wax museum in Grand Theft Auto V. It is located on Vinewood Boulevard in Downtown Vinewood, Los Santos. It is based on the Hollywood Wax Museum of Los Angeles. The Wax Haven is located next to Vinewood Star Tours.
It is most likely dedicated to Vinewood icons and celebrities. The museum's entrance features pictures of real-life artists Marilyn Monroe, Charles Chaplin, John Wayne and Elvis Presley, or their GTA look-alikes. A bigger mural with the same characters can be found at the back of the building.
Gallery
Ad blocker interference detected!
Wikia is a free-to-use site that makes money from advertising. We have a modified experience for viewers using ad blockers

Wikia is not accessible if you've made further modifications. Remove the custom ad blocker rule(s) and the page will load as expected.