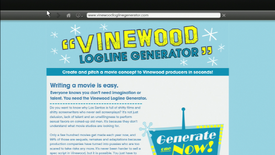 vinewoodloglinegenerator.com is a site in Grand Theft Auto V.
In this site you can generate your own Vinewood loglines, with many choices, from Character Flaw to Antagonist.
Choices
Character Flaw
Paranoid
Cowardly
Small-Minded
Lazy-Eyed
Lactose Intorelant
Hair-Lipped
Sex-Obsessed
Half-Witted
British
Self-Harming
Pompous
Depressed
Bullmic
Split Personality
Narcissitic
Character Strength
Former Amish
Big-Fisted
Trusting
Naive
Goofy
Shy
Violent
Slow Talking
Feisty
Wise-Cracking
Smack-Talking
Flirty
Nothing-To-Lose
Thrill-Seeking
Happy-Go-Lucky
Crisis
Is told he only has 24 hours to sleep with a midget
Is brainwashed into becoming a porn star
Is imprisoned for fingering old ladies
Is fired from his job for sexual harassment
Wins 'tiniest penis on the internet' in an online poll
Is abducted by aliens and sent back to 2012
Loses all his money at a swinger party
Is drugged and wakes up in the body of an illegal immigrant at a swinger party
Is possessed by the ghost of a gay Confederate Soldier
Is kidnapped by a cult that sacrifices babies to a pagan elflord
Finds out his grandfather was an Australian war criminal
Discovers global warming is a hoax
Has his kidney stolen in a Brazilian brothel
Loses his legs in a freak lawn mowing accident
Mistakenly drowns the mailman in a bathtub
Hero
Rentboy
Yuppie
Country music star
Gigolo
Taxidermist
Juicehead
Porn star
Pig farmer
Lumberjack
Virgin
Ventriloquist
Software millionaire
Teenage runaway
Leper
Cos-player
Side Kick
Methead with a heart
Hermaphodite with huge ego
Giant baby and part time lawyer
Acid casualty who was a child prodigy
MILF with low self esteem
Hasidic Jew with altitude
Conspiracy theorist and part time furry
Hermit who likes to dance his own steps
Mermaid with body hair problem
Sex slave with a degree in astro-physics and a love of show tunes
Priest who can't stop smoking or swearing
Circus Clown with wandering hands
Lesbian with great rack
Pothead with paranoia, sexual dysfunction, and a great love of cliches
Online predator with a heart and a friendly dog 
​Special Power
Shape-shifting
Time-traveling
Psychotic
Bionic
Telepathic
400-Pound
Machiavellian
Special Forces-trained
Cage-fighting
Double-jointed
Contract-killing
Cold-blooded
Megalomaniacal
Martial arts expert
Knife throwing
Antagonist
Japanese school girl
Maimed singer
Zombie sumo wrestler
Murderous soccer mom
Cannibal
Stoner
Hipster
Gypsy
Investment banker
Necrophliac
Vegan
Dictator
State senator
Pageant queen
Goal
To save the world from white people
To win back the love of his crippled high school sweetheart
To foil a terrorist attack on an Up and Atom restaurant
In order to be able to love animals unconditionally again
to teach the world that with swinging anything is possible
To win back the respect of his gay son
To prove to his friends that he's not gay after all
In a race against time to disembowel a cheerleader
To save his local meth house from being turned into luxury condos
To uncover the truth about what really happened to the Marie Celeste
In order to bring closure to a childhood trauma buried deep in his ass
To restore peace to the Middle East section of Los Santos
To uncover a scandal that rocks the world of female bodybuilding
To firebomb the spelling bee championship for his home town
To see who can break the record for the biggest asshole in Texas
Gallery
Ad blocker interference detected!
Wikia is a free-to-use site that makes money from advertising. We have a modified experience for viewers using ad blockers

Wikia is not accessible if you've made further modifications. Remove the custom ad blocker rule(s) and the page will load as expected.