The Von Crastenburg Family are a powerful dynasty from New England and are one of the richest families in the world. Jill Von Crastenburg is a member of this family.
Wealth and Influence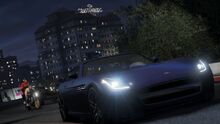 The Von Crastenburgs have been said to have once owned half of the island of Algonquin in Liberty City. If this is true, and they still own parts of it, their wealth could easily reach the trillion US dollar mark and above. the family are well-known in Liberty City's social set and high society Algonquin, their residences are among the largest and most opulent in America, their offical residence is a 19-bedroom mansion in the exclusive part of Westdyke in Alderney. Other buildings that the Von Crastenburg family own are a skyscraper in Algonquin, and five hotels in Los Santos.
Possible Inspiration
The Hilton family could also be an inspiration, as:
Family Friendships
The Von Crastenburg's are one of the most prominant families on earth and as such hold an impressive list of very high-profile friends such as:
The Parker family
The Cleethorpes family
The Paulo family
Julio Ochoa, The Mayor of Liberty City
Joe Lawton, The President of the United States
The Rothschild family
Surname
The Von Crastenburg name is obviously meant to be of German origin and perhaps German Nobility seeing that their name Von has a capital V indicating that they might have been German aristocracy many centuries ago, since the "V" in Von would not be capitalized in German. The name was probably chosen because it sounds upper-class.
Jill is the 13-year-old heiress to the family's vast fortune. She is a regular fixture in the city's club scene and a leading figure in the Liberty City party circuit. Jill has achieved celebrity status for living the extravagant lifestyle the Von Crastenburgs are notorious for. She is best friends with socialite Cloe Parker and Kayla Paulo and is known throughout the city for her STD-positive status and sex tape, despite only being 13. Jill Von Crastenburg dated an Rothschild heir in 2013