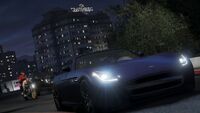 The Von Crastenburg Hotel is a high-wealthed hotel located in Los Santos, San Andreas. Judging by the name, the hotel is owned by the Von Crastenburg Family, one of the richest families in the world.
"Perhaps, here... things will be different."
This article, or parts of it, are Speculation and may not turn out to be correct.
Speculation
− You might be able to sleep in the hotel to save your game. (you could do that in RDR so it would make sense)