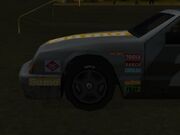 WFO is a tire manufacturer in Grand Theft Auto: San Andreas.
Description
It produces race tires, mainly for arena events. The only known vehicle to have WFO tires is the Hotring Racer. The logo can be found on the sidewall of its tires.
See Also
Ad blocker interference detected!
Wikia is a free-to-use site that makes money from advertising. We have a modified experience for viewers using ad blockers

Wikia is not accessible if you've made further modifications. Remove the custom ad blocker rule(s) and the page will load as expected.