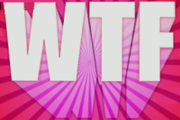 WTF (internet slang for "what the fuck") is a musical that appears in Grand Theft Auto IV and Grand Theft Auto V. Advertised on billboards, the radio, the Internet and Taxis, the musical appears to dramatically depict the lives of Internet users in a stereotypical manner, whilst the promotional advertising overuses Internet jargon. The main character of the play is Claude Maginot and it is directed by Miss Smallcock. The play is in the Maginot Theatre in Star Junction, Algonquin. In GTA V, the musical is found advertised in many areas, such as in a Weazel Dorset across the street from Mount Zonah Medical Center in Rockford Hills, Los Santos. 
The work is sponsored by Eyefind.info, Fruit Computers, and TW@. 
Gallery
Ad blocker interference detected!
Wikia is a free-to-use site that makes money from advertising. We have a modified experience for viewers using ad blockers

Wikia is not accessible if you've made further modifications. Remove the custom ad blocker rule(s) and the page will load as expected.