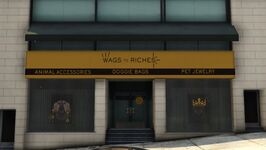 Wags to Riches is a pet accessories store located opposite the entrance to Los Santos Customs on Eastbourne Way in Burton and Rockford Hills. The store sells animal accessories, doggie bags and pet jewelry, some of which are depicted on its windows.
Trivia 
Its name refers to the term 'rags to riches', in which describes a person who rises from poverty to wealth, and in some cases from obscurity to fame - sometimes instantly.  WAGs is a British acronym meaning 'wives and girlfriends', namely those of wealthy footballers.
Ad blocker interference detected!
Wikia is a free-to-use site that makes money from advertising. We have a modified experience for viewers using ad blockers

Wikia is not accessible if you've made further modifications. Remove the custom ad blocker rule(s) and the page will load as expected.