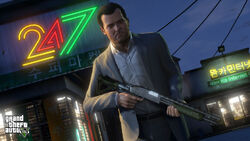 The Wan Ka Internet Cafe (왕카인터넷) is a business in Grand Theft Auto V. Not much is known about it, other than it may be a place to access the internet. Judging by the Hangul characters, it might be located in Little Seoul.
Trivia
The words Wan Ka is a reference to the British term for a person who enjoys constant masturbation, "Wanker".
Wan Ka does not resemble any Korean words. In fact, Wan Ka is actually what internet cafes are called in Mandarin (网咖).
The name of the internet cafe is similar to the Tw@ Internet Cafes in Liberty City because the name of is a play on words another sexual slang term, "twat."