Ad blocker interference detected!
Wikia is a free-to-use site that makes money from advertising. We have a modified experience for viewers using ad blockers

Wikia is not accessible if you've made further modifications. Remove the custom ad blocker rule(s) and the page will load as expected.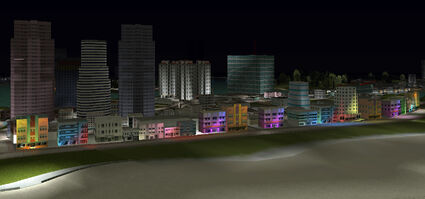 Washington Beach is a small district in Vice City. The Washington Mall, a small open-air mall, is located in the area. Situated in between Vice Point and Ocean Beach, the district is only a few blocks long. 1102 Washington Street is located here, right across from Ken Rosenberg's office. The district seems to have several small shops, all inaccessible. This is where Tommy Vercetti begins his adventure (in Grand Theft Auto: Vice City). The area hasn't changed significantly between the events of Grand Theft Auto: Vice City Stories and Grand Theft Auto: Vice City, although the mall has yet to be constructed in GTA Vice City Stories, and the Washington Beach Fairground no longer exists in GTA Vice City. The district has a population of 2,330 as of 1984.
Businesses
Grand Theft Auto: Vice City
Grand Theft Auto: Vice City Stories
Places of Interests
Trivia