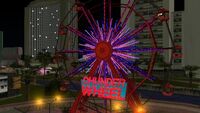 The Washington Beach Fairground is a large fairground located in Washington Beach, Vice City. It is the location of the famous Chunder Wheel.
After 1984, the fairground was seemingly removed from Washington Beach, with a construction site taking up its former spot. It is implied that Avery Carrington bought the fairground and tore it down to build a new structure.
The fairground appears in Grand Theft Auto: Vice City Stories, although it does not play a role in the story. Victor Vance can come here and ride the Chunder Wheel at his leisure, however. The fairground is not seen in Grand Theft Auto: Vice City, however. This means that it was demolished within two years. A Mr Whoopee ice cream van can be found parked here.
Gallery