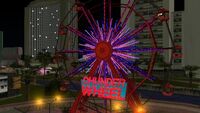 The Washington Beach Fairground is a large fairground located in Washington Beach, Vice City in 1984, during the events of Grand Theft Auto Vice City Stories.
Description
The fairground is located facing the Midland Hotel and an Empire Building, to the right of a housing estate and apartment blocks, and adjacent to another Empire Building. The fairgrounds contain several snack booths, game booths, and is the location of the Chunder Wheel, a large ferris wheel located in the middle of the grounds. A Mr Whoopee van can be found near one of the snack booths. Victor can visit the fairgrounds and ride the Chunder Wheel, although the snack booths and game booths cannot be used.
After 1984, the fairground was seemingly removed from Washington Beach, with a construction site taking up its former spot by the events of 1986, during the events of Grand Theft Auto: Vice City. It is implied that Avery Carrington bought the fairground and tore it down to build a new structure, or that the fairground was a temporary fairground.
Gallery
Ad blocker interference detected!
Wikia is a free-to-use site that makes money from advertising. We have a modified experience for viewers using ad blockers

Wikia is not accessible if you've made further modifications. Remove the custom ad blocker rule(s) and the page will load as expected.