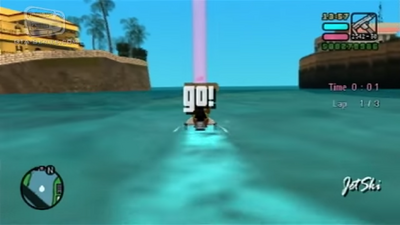 Watersports is a side-mission of 8 courses with the Jetski unlocked after the mission Say Cheese. The Jetski is always available behind the film studio at Prawn Island triggering the mission and upon completing each course the next one is unlocked. The player is rewarded with $500 after all the courses are passed and the Wetsuit outfit is unlocked.
Notes
It is advised to attempt this mission whilst the weather is calm, as stormy conditions will make the water rough and controlling the watercraft will be much more difficult.
Trivia
After Say Cheese, the location and the position of the Jetski changes, now facing north at the northern end of the jetty. After ending the side-mission, Vic will spawn at the southern end where the Jetski originally was.
Watersports is another term for urolagnia, the fetish of urination.
Ad blocker interference detected!
Wikia is a free-to-use site that makes money from advertising. We have a modified experience for viewers using ad blockers

Wikia is not accessible if you've made further modifications. Remove the custom ad blocker rule(s) and the page will load as expected.