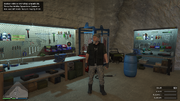 The Weaponized Vehicle Workshop is a mod shop featured in Grand Theft Auto Online as part of the Gunrunning update.
Description
Grand Theft Auto Online
It is a workshop dedicated to vehicle customization, operated by the Weapon Mechanic. It can be found in Bunkers and Facilities, and can be added by optional upgrade to the appropriate cargo bay in either the Mobile Operations Center or the Avenger.
The workshop is restricted to Weaponized Vehicles, which aside from the basic options (armor, respray, performance upgrades), feature custom options mainly available via Research, which can include liveries, armor plating and weapons.
Customization
Grand Theft Auto Online
In the Bunker and Facility, the player can modify the desired large vehicle (see list below) by entering the vehicle in its parked location and select the customization option in the menu (default pressing right on the D-Pad) instead of accelerating to leave the storage area.
If the workshop has been added to the MOC or Avenger, selected smaller weaponized vehicles (see list below) can enter the Vehicle Workshop module by driving them to the access ramp. Once inside, again the player can start customization by entering the stored vehicle or interacting with the mechanic.
Vehicles
Grand Theft Auto Online
Mobile Operations Center/Avenger
Bunker
Facility
See Also