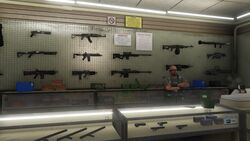 The following is a list of weapons that can be used in Grand Theft Auto V and Grand Theft Auto Online.
Table
Key
| Reference | Meaning |
| --- | --- |
| [CE] | Only available in Collector's Edition (PS3, Xbox 360) & Enhanced Version (PC, PS4, Xbox One). |
| [NG] | Only available in the Enhanced Version (PC, PS4, Xbox One). |
| [RP] | Available to all players who have completed the "Prologue" mission on PS3 or Xbox 360 and then upgraded to the Enhanced Version (PC, PS4, Xbox One). |
| [R*] | Available to all players who create a Rockstar Social Club account and link it with their Playstation Network or Xbox Live account. |
| [DLC] | Available from a DLC (Downloadable Content) update. |
| [SP] | Only available in Story Mode. |
| [ON] | Only available in Grand Theft Auto Online. |
| [MOD] | Weapon has attachments options. |
Contents
Grand Theft Auto V features 80 separate weapons.
21 of these are Online-exclusive.
39 of these were added as part of a DLC.
22 of these are exclusive to the enhanced version of the game (Xbox One, PlayStation 4 and PC).
45 of these are completely new.
6 of these are single-player exclusives.
6 are "Mark II" variations and upgradable from their base versions.
The following table lists weapons based on how the Weapon Wheel assigns them.
Imagery Table
NOTE: Click on the images to go to their articles, or hover over the image to reveal the weapon's name.
Melee

Handguns

Machine Guns

Shotguns

Assault Rifles

Sniper Rifles

Heavy Weapons

Thrown/Misc
Additional Information
Vehicle Weapons
Others
These weapons are not available for use in the game, but are often depicted in several ways, often in in-game media. Unlike in-game weapons, they are exact representations of their real-life counterparts.
Artworks
Some artworks depicts a what appears to be a M4 carbine variant with a CQBR (short barrel) configuration (also known as the "Mk 18 Mod 0"). The ones carried by Trevor has a scope attachment, while the ones carried by Michael has a scope and a suppressor.
One of Trevor's artworks depicts him on a Blazer quadbike and holding and unknown Sniper Rifle.
One of the artworks of the main protagonists during the mission Lamar Down depicts Michael with the cut Assault Sniper.
There are some depictions of Glock-styled pistols, such the one seen in some artworks of Franklin.
In one artwork of Franklin and Michael preparing for The Jewel Store Job, a piece of paper with the option "Guns Blazing" (Loud and Dumb) depicts an MP5-style SMG and an AK-47-style assault rifle.
Artwork of the Bullpup Rifle released during the run-up to the High Life Update suggests that it was originally going to be modeled after the L85A2, featuring the same receiver, handguard, charging handle and carrying handle.
In-game
Trivia
Due to overused sound effects, most fully-automatic weapons are implied to be firing noticeably faster than their actual rate of fire.

The MG, however, is implied to fire slower.

Handguns in GTA V are the only weapon class in which reloading differs when the magazine is empty or not.
In GTA Online, weapon attachments unlock as you increase your rank. For example, you unlock the Advanced Rifle at Level 70 and the Extended Clip for the Advanced Rifle at Level 71.
DLC weapons are located next to the original ones, listed in the appearances order (i.e., the Gusenberg Sweeper will be before the Bullpup Rifle). However, the Sawed-off Shotgun can be placed here first if the Assault SMG is available.
Sometimes, guns dropped on the ground by NPCs will randomly discharge, as seen here.
As demonstrated on the gameplay video, weapon system on the enhanced edition of GTA V now introduces the ability to throw grenades while holding a weapon. It is done by either pressing Left on the D-pad, or by swiping the Dualshock 4 touchpad upwards. On the PC version, it can be done by pressing "G" whilst aiming. It is available in both first and third person modes.
Most of the game's weapons feature reload animations unrealistic towards real firearms (for example, shotguns are always pumped after reloading, even when not empty, which while possible would needlessly eject a loaded shell.) However, this was likely done to allow for speedier reloading in game.