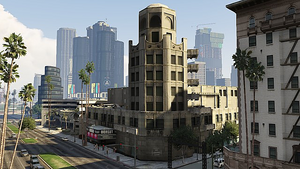 The Weazel Dorset is a theatre located on Dorset Drive in Rockford Hills, Los Santos.
Description
It is located right across the street from the Mount Zonah Medical Center.
During the events of the game, the musicals "Hashtag" and "Vice" and the show "Tuppeny Nudger!" are being played in the theatre. The Weazel Dorset is operated by the Weazel broadcasting company just like the Weazel Morningwood.
Influence
Gallery
Ad blocker interference detected!
Wikia is a free-to-use site that makes money from advertising. We have a modified experience for viewers using ad blockers

Wikia is not accessible if you've made further modifications. Remove the custom ad blocker rule(s) and the page will load as expected.