West Coast Classics Magazine
Talk

0
This article or section contains insufficient information and is considered as a Stub. You can help GTA Wiki by expanding it as much as you can.
"Stronger than ever: The Return Of MC CLIP"
―West Coast Magazine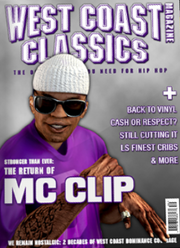 West Coast Classics Magazine is a hip hop magazine. They talk about rappers, and hip hop. They recently interviewed MC Clip. It is possible that they are affiliated with the radio station West Coast Classics.