"The hipsters in Mirror Park and West Vinewood get very defensive about the stereotype that Vinewood is nothing but a bunch of desperate fakers trying to break into the entertainment industry (but that's because they're desperate fakers trying to break into the entertainment industry.)"
―GTA V Manual
West Vinewood is a somewhat-affluent neighbourhood in Los Santos, San Andreas, featured in Grand Theft Auto V. It is bordered by Rockford Hills to the west, Burton to the south, Vinewood Hills to the north and Downtown Vinewood to the east.
Character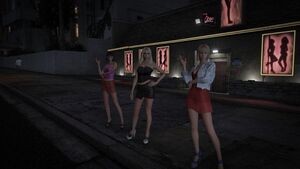 West Vinewood is the central hub for young adults in Los Santos due to the many nightclubs and bars located in the neighbourhood. Partying youths can be seen outside these clubs until the early hours of the morning. There is almost no gang presence and a relatively low crime rate except for the widespread availability of prostitutes. There are no residential areas in West Vinewood.
Events of GTA V
Franklin Clinton first meets Beverly Felton hiding in some bushes outside an apartment block in West Vinewood during the mission Paparazzo. Franklin then agrees to chase the actress Miranda Cowan in her limo through West Vinewood in order to get some pictures for media outlets.
Franklin also starts the Paparazzo - The Partnership mission in West Vinewood when he finds Beverly hiding in a dumpster.
The side mission Vinewood Souvenirs - Willie takes place in West Vinewood when Trevor Philips must collect a gold tooth from Willy while he is playing with his band at Tequi-la-la.
Influence
The neighborhood is based on and named after West Hollywood.
Notable residents
Transport
There is no Los Santos Transit trains running through West Vinewood, with the nearest station being in Rockford Hills. Regular bus services can be seen operating throughout the neighborhood.
Places of Interest
Businesses
Roads and Streets
Collectibles
Gallery
Ad blocker interference detected!
Wikia is a free-to-use site that makes money from advertising. We have a modified experience for viewers using ad blockers

Wikia is not accessible if you've made further modifications. Remove the custom ad blocker rule(s) and the page will load as expected.