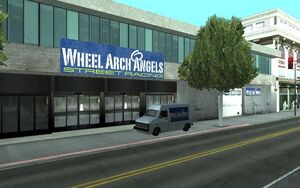 Wheel Arch Angels is an automobile customization shop in Grand Theft Auto: San Andreas that specializes in tuners. It has one location, in the Ocean Flats district of San Fierro.
The shop is available after completing Zeroing In in the Wang Cars asset mission strand in San Fierro.
Description
The cars available for modification at Wheel Arch Angels are all tuners. All available modifications at Wheel Arch Angels center around street racing: the front and rear bumpers, roof, exhausts, spoilers and side skirts are all replaced. The parts are made by two companies, Alien Styling and X-Flow. Available paint jobs depend on the tuner being modified, and are reminiscent of street racing decals. However, (done on the PC version) when heavily modded cars from this garage is stored in a player's garage, the custom paint job may disappear completely, and when a player tries to repaint the car with the same paint scheme, the game claims that the color scheme is already on the vehicle. In order to avoid this glitch, it is recommended that people play the game legitimately without using any cheats (not even a trainer should be used). One confirmed cheat which is known to trigger this glitch is the money cheat found on trainers.
Modifications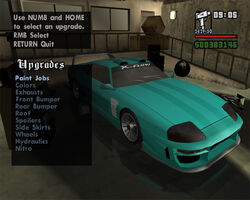 Paint Jobs (3 paint jobs)
Colors
Exhausts (Alien and X-Flow)
Front Bumper (Alien and X-Flow)
Rear Bumper (Alien and X-Flow)
Roof (Alien and X-Flow)
Spoilers (Alien and X-Flow)
Side Skirts (Alien and X-Flow)
Wheels
Car Stereo
Hydraulics
Nitro (x2, x5, x10)
Supported vehicles
Examples of modifications
See also
Trivia
In the beta, Wheel Arch Angels was instead a TransFender.