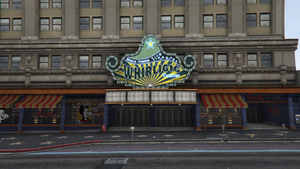 The Whirligig Theater is a theater in Grand Theft Auto V located on Vinewood Boulevard in Downtown Vinewood, Los Santos. The building is not enterable and the player cannot watch any movie here.
The theater is distinguished by its large ornate sign above its main entrance. The theater is based on the real-life El Capitan Theatre in Los Angeles, California.
Gallery
See Also
Ad blocker interference detected!
Wikia is a free-to-use site that makes money from advertising. We have a modified experience for viewers using ad blockers

Wikia is not accessible if you've made further modifications. Remove the custom ad blocker rule(s) and the page will load as expected.