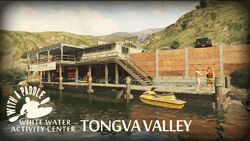 The White Water Activity Center is an outdoor activity centre in Grand Theft Auto V that offers canoeing, hiking, and various other activities. The center is located on Tongva Drive in Tongva Valley, Los Santos County right next to a small creek. Right behind the building is a small dock, which allows for access to Seasharks to cruise down the creek. The building cannot be entered, however, and plays no role in the story.
Gallery
Trivia
'White water' is a fast shallow stretch of water in a river.
"With A Paddle" may be a reference to the movie, Without a Paddle.
Ad blocker interference detected!
Wikia is a free-to-use site that makes money from advertising. We have a modified experience for viewers using ad blockers

Wikia is not accessible if you've made further modifications. Remove the custom ad blocker rule(s) and the page will load as expected.