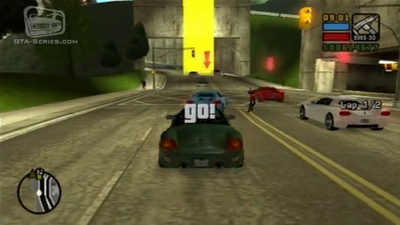 Wi-Cheetah Run is a street race in Grand Theft Auto: Liberty City Stories. It becomes available after completion of the mission Love on the Rocks for Donald Love. The street race starts by a phone call in Wichita Gardens, Shoreside Vale. The location is the same as the contact point for the Southside Hoods in Grand Theft Auto III. For this race you will need a car. The cars the other racers use are Cheetahs. The race is two laps long and The reward for first place is $1500.
Script
Competitor: Ain't no car faster. Ain't no driver sharper. I'll see you at the next street race... in my rear view mirror.
Video Walkthrough
Ad blocker interference detected!
Wikia is a free-to-use site that makes money from advertising. We have a modified experience for viewers using ad blockers

Wikia is not accessible if you've made further modifications. Remove the custom ad blocker rule(s) and the page will load as expected.