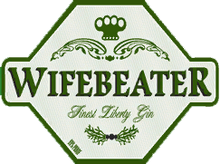 Wifebeater is an alcoholic gin company in the HD Universe, appearing in Grand Theft Auto IV.
It is responsible for making gin with an alcohol content of 40% or less. It is made strictly from Juniper berries for flavoring. 
Trivia 
The company's name is a reference to men getting drunk and beating up their wives.
A Bottle can be found in the house at the end of Savannah Avenue, the one featured in the mission Concrete Jungle.