The Windsor is a two-door sports convertible featured in Grand Theft Auto: San Andreas.
Description
Design
The Windsor is designed as a 1960s to early 1970s classic convertible sports car, appearing with either its black top up or down. The car resembles a late 60s - mid 70's Jaguar E-Type or TVR S Series, but features a stretched rear and a generally longer proportion. The lights on the front and the shape resemble a 1982-1990 Alfa Romeo Spider.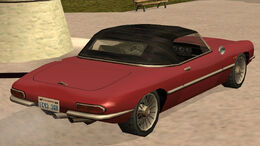 Performance
The Windsor is a fast car; however, it does not match up to some of the "elite" cars. The Windsor's engine is very loud, giving out a throaty roar, sounding more like a V8 than the 4 cylinder engine that came in all Alfa Spiders or the 6 cylinder/V12 that came in the all Jaguar E-Types but the engine was close enough to the TVR S seies with V8 Configuration. Acceleration and speed is on par. Cornering is very difficult, as the car seems to be much heavier than it looks. It also tends to subtly fishtail or drift, despite running at mid speeds, though experienced players can control its drifting capabilities.
Modifications
Being a standard sports car, the Windsor can only be modified at TransFender, which offers the following modifications:
Color
Wheels (ten types)
Nitro (All)
Bass Boost
Hydraulics
Trivia
The default radio station in the Windsor is Master Sounds 98.3.
In the mission Key To Her Heart, the croupier leaves the shop very quickly. The player does not necessarily need to use this vehicle, but it is the only one in the parking lot. Sometimes, the car you're driving may disappear after leaving the shop, so you may need to take it.
Oddly, the front license plate is mounted so that it partly obstructs the engine's main source of air.
Locations
See also