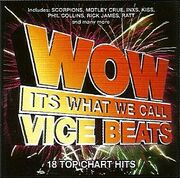 Wow Its What We Call Vice Beats is an 18-track compilation album, advertised in the Grand Theft Auto: Vice City Stories game manual.  Despite the album featuring real artists who feature on the game's soundtrack, it was never made for general release.
The album name and cover is based on the Now That's What I Call Music! compilation series.
Known songs
Scorpions - "Rock You Like a Hurricane"
Mötley Crüe - "Looks That Kill"
INXS - "The One Thing"
Kiss - "Lick It Up"
Phil Collins - "In the Air Tonight"
Rick James - "Mary Jane"
Ratt - "Round and Round"